Old African Photos

This page showcases 19th century and earlier African photos together with colonial images of old Africa and earlier etchings and paintings of old Africa. Click on the NEXT or previous buttons for images and photos or click on Auto for a slideshow.

Much of Africa, particularly those countries in the Great Lakes region, weren't even visited by westerners armed with cameras until the early twentieth century and, as such, we will never see images of old Africa from those areas, even ancient maps tended to leave those areas blank. The good news though, is that little has changed so what you see today is Africa 'uncut' and in its natural state with only homes now being made of brick rather than wood and new roads. Here we showcase old African photos of rural life, villages and photos of African children at home, work, play and at school.
---
Old African Photos: African Slavery



About the rise and origins of black African slavery together with its history and facts and figures together with a video documentary.
---
---
Old African Photos: Colonialism in Africa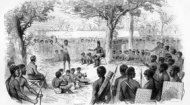 About European colonialism in Africa at the end of the 19th Century together the colonial history of each African country.
---
---