Volunteer Work Western Sahara

The Western Sahara isn't technically a country, rather a territory and a disputed one at that. However here at the African Volunteer Network we don't get involved politically; the Western Sahara is a recognised term for a defined area and we'll go with that. We won't go into too much detail about the history and the causes of the tensions in the Western Sahara save to state that, as is so often the case, they are a legacy of the end of colonial rule in Africa with both Morocco and Mauritania eyeing up the territory that they saw as naturally theirs whilst neighbouring Algeria took the line that the indigenous and nomadic Saharawis people of the Western Sahara had the right to self determination, a view the International Court of Justice upheld in 1975. Whilst internal events in Mauritania led them out of the dispute, Morocco ignored the court ruling and moved in.

There has been conflict ever since including the building of a 1677 mile defensive sand and stone wall structure laced with mines between Moroccan control areas of Western Sahara and areas controlled by the Polisario Front, a group that was set up in 1973 to represent the interests of the Saharawis. Today there are around 170,000 Saharawis living in semi autonomous refugee camps in Algeria, completely dependent on foreign aid and that is where the limited volunteer work is available, not actually volunteering in the West Sahara but carrying out volunteer work with those who have fled the country.

At the present time we are not aware of any volunteer placements in the Western Sahara however, if you run or know of a volunteer work project there, let us know by contacting here. We look forward to hearing from you!
---
Volunteer Work Western Sahara: The Lighthouse Project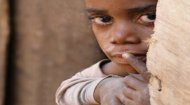 In a shameless bit of self-promotion, read this novel by the African Volunteer Network team about volunteering in Uganda. "Well worth the read especially for those working with non-profits abroad. In fact, it should be required reading."
---
Volunteer Work Western Sahara: UWC Refugees from Western Sahara



Please check back as there are currently no volunteer work opportunities at this volunteer project in Western Sahara.
---
---
Volunteer Work Western Sahara: Child Sponsor Western Sahara



Another way to volunteer in the Western Sahara is to do so by sponsoring a child there. Details of how to sponsor a child in the territory with Western Saharan child sponsor organisations, charities, programs and projects.
---
Volunteer Work Western Sahara: Western Sahara Country Profile



In another of our African country profiles, find out all about the Western Sahara in a series of information articles, latest daily news, videos, and images together with volunteering and child sponsorship opportunities.
---
---