N'Djamena Airport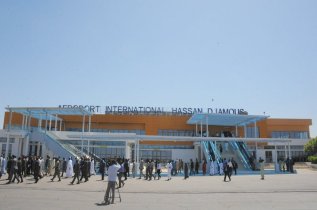 N'Djamena Airport, located in the north-western corner of N'Djamena, is the main and only international airport in Chad and is served by a number of airlines including Air Cote d'Ivoire, Air France, Egyptair, Ethiopian Airlines and Turkish Airlines and well as some smaller African airlines although only handles between 400-600 passengers a day over 4-6 flights. The airport is also home to Tchadia Airlines, the 'latest' national carrier of Chad after Air Tchad was grounded in July 2012 due to safety concerns. Air France provides the only non-African city of departure into Chad. Located less than 3km from downtown N'Djamena, the Airport is renowned for its lax security with those security officers who are present happy to explain that there is no money for proper equipment or staff so when you empty your bags at customs you are likely to be instantly surrounded by Chadians begging you for your possessions to keep as souvenirs. Throw in the reported surliness and hostility of the staff working at N'Djamena Airport (clue; the airport advise "to immediately go to the boarding lounge for police formalities that can be long") and you'll probably want to keep it off your diestination of choice bucket list, although fishing in nearby Lake Chad remains a worthwhile attraction as is counting the bullets peppering the buildings as you enter N'Djamena itself!

N'Djamena Airport (Aeroport International de Ndjamena) is both a civilian and military base, being the home of the Chadian Air Force with its limted range of operational aircraft. The French have also maintained a presence there since 1986 as part of Operation Barkhane; a defence agreement between Chad and France. Inside the airport facilities are very basic with a couple of shops which are rarely open, an equally rarely open cafe/restaurant which is frequently only lit by candles due to disruption to the electric supply, toilets and washrooms and seating areas so best bring your own water and food in case you are in for a long wait. And a book. Maybe two. In the video (below) make at virtual landing at Chad's N'Djamena Airport and see Chad from the sky as you begin your descent and approach the runway.
---
N'Djamena Airport: Volunteer in Chad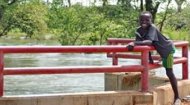 Check out all the latest fee paying and free African volunteer work placements and charity work job opportunities abroad with local projects and volunteering organisations in Chad.
---
N'Djamena Airport: N'Djamena Profile



A complete profile of N'djamena, capital city of Chad including N'djamena information, facts, pictures and its limited tourist attractions.
---
---
N'Djamena Airport: Child Sponsor Chad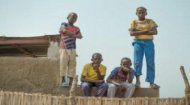 Details of how to sponsor children in Chad with Chadian child sponsor organisations, charities, programs and projects.
---
N'Djamena Airport: Chad Country Profile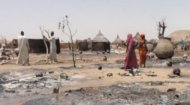 In another of our African country profiles, find out all about Chad in a series of information articles, latest daily news, videos, and images together with volunteering and child sponsorship opportunities.
---
---