Liberia Images

Liberia, with its population of 5.058 million (2020), is located on the west cost of Africa bordered by Sierra Leone on its west, Guinea to its north, the Ivory Coast (Cote d'Ivoire) to its east and the Atlantic Ocean to its south. The land next to the sea is a 350 mile strip of mangrove marshes and lagoons that rises, as you venture inland, to plateaus of some 1500-2000 feet that are covered in grasses and forests. Further north are mountains dominated by the mile high Nimba Mountain that lies at the intersection of the Ivory Coast, Guinea and Liberia.

The Saint John River is one of Liberia's six main rivers. It forms in Guinea, then flows through the Nimba Mountains into Liberia eventually flowing into the Atlantic Ocean. Liberia's other rivers include the Mano, Lofa, Saint Paul, Cestos, Cavalla, Mesurado and the Ya River. Liberia also has a number of lakes. One of the largest, Lake Piso, located fifty miles north-west of Monrovia, covers an area of some 40 square miles. In 1998 it burst its banks flooding nineteen nearby villages, leaving 2000 homeless. During the civil war many Liberian villagers made there way to Piso to seek refuge on islands on the lake such as Massatin, named after a woman called Massa, a 15th century farmer who lived alone on the island. Those visiting Liberia should take time to visit the Sapo National park. Founded in 1983 and covering some 700 sq miles, its home to a variety of wildlife from chimpanzees to pygmy hippos as well as forest elephants and leopards. The park itself is a lowland forest and a virtually intact eco-system.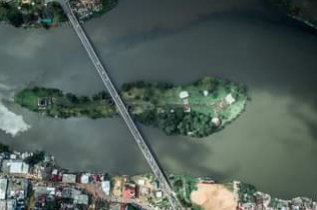 Other places worth a visit are Providence Island (above), initially called Dozoa Island then renamed Perseverance Island reflecting the challenges faced by returning slaves; Blue Lake in Bomi County, named after the clear blue waters that have filled a giant crater left behind after the Liberia Mining Company closed in the late 1970s; and for those with a taste of history, the town of Harper in south east Liberia which became home to the first slaves who came back to Liberia who later founded the country. The town has many old mansions and relics reflecting the area's past however was badly damaged in the civil war and many of the building were burnt out and in a terminal state of decay. Nevertheless worth a visit not least for the beaches there with their undeveloped, natural beauty. The video (below) shows images of Liberia set to traditional music and gives a good look and feel of the country.
---
Liberia Images: Volunteer in Liberia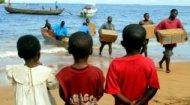 Check out all the latest fee paying and free African volunteer work placements and charity work job opportunities abroad with local projects and volunteering organisations in Liberia.
---

Use this Google Earth satellite map of Liberia in Africa to explore and take a virtual tour of Liberia and zoom in on places of interest.
---
---
Liberia Images: Sponsor Children in Liberia



Details of how to sponsor children in Liberia with Liberian child sponsor programs.
---
Liberia Images: Liberia Country Profile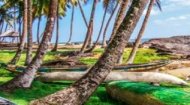 In another of our African country profiles, find out all about Liberia in a series of information articles, latest daily news, videos, and images together with volunteering and child sponsorship opportunities.
---
---