Liberia Civil War

The root causes of the civil war in Liberia can be traced back to the founding of the country in 1847, after the American Colonization Society had started to ship back freed slaves from the Caribbean and America to the west coast of Africa in 1820. These freed slaves were as disorientated at being in Africa as their forefathers had been when they first landed in America, and they looked down upon the area's indigenous people, discriminating against them and classing them as second class citizens. The returned former slaves still saw themselves as Americo-Liberian rather than African whom they saw as savages, whilst the non-immigrant population saw the Americo-Liberians as settlers who were marginalising them from society.

Despite this internal dissent Liberia enjoyed a period of relative calm until 1980 when Master Sergeant Samuel Doe staged a military coup, backed by ethnic soldiers who had eventually tired of Americo-Liberian rule, killing the President William R. Tolbert, Jr. and executed most of his cabinet. Doe then suspended the constitution effectively ending Africa's first republic and became the country's first non Americo-Liberian leader since the country's inception. In 1985 elections were held to legitimise Doe's rule, however Doe lost the vote and responded by firing all count officials, replacing them with his own and declaring himself the narrow victor. The following month Thomas Quiwonkpa, a former Commanding General of the Armed Forces of Liberia, launched a botched coup, and he was later executed by Doe's soldiers along with between 2000-3000 civilians. Hundreds of opposition politicians were arrested and held in detention.

This election and coup spawned an even more oppressive regime that was to sow the seeds of the first Liberia Civil War in 1989 when the Americo-Liberian Charles Taylor and his National Patriotic Front of Liberia (NPFL), supported by Burkina Faso and the Ivory Coast, entered Liberia and seized control of all lands save for an area around the capital of Monrovia. This was achieved so easily due to the general support of the population who had rapidly become disillusioned with Does' rule. By 1990 Doe had been captured, tortured and killed and the war was in full flow between those supportive of the Americo-Liberian Taylor and elements supporting the majority non-elitist population. Over the subsequent years troops from neighbouring countries entered the conflict, however uneasy elections were held in 1997 which saw Taylor (below) elected as president, elections which were deemed fair by outside observers.

However Taylor's regime was just as harsh and brutal as its predecessor and further conflict erupted across the country in 1999 deemed the second Liberia civil war with international concern that Taylor was supporting rebels in neighbouring Sierra Leone. The war was triggered when Liberian rebels calling themselves the Organisation of Displaced Liberians carried out attacks in Liberia from Guinea. The attacks soon descended into a three-way war between Liberia, Guinea and Sierra Leone. A state of emergency was declared by Taylor in January 2002 after his forces lost control of vast swathes of the country. By August 2003 Taylor had been forced to step down and leave the country going into exile in Nigeria with the United Nations launching a major peacekeeping mission, however tensions between various groupings led to ongoing outbreaks of violence.

In 2006 Taylor appeared before a UN backed court in Sierra Leone faced with charges of crimes against humanity. He was found guilty and sentenced to a 50 year a prison term, the longest sentence handed down by the court. When Taylor resigned in August 2003 the parties involved in the second civil war had agreed a ceasefire with a two year National Transitional Government for Liberia. Elections were duly held in 2005 which saw Ellen Johnson Sirleaf elected after a run-off, Africa's first and only head of state. Deemed to be a good president, Sirleaf had the advantage of appealing to Americo-Liberians as she was educated at Harvard, whilst she is half Gola on her father's side, and a quarter Kru on her mother's side. She served as the 24th President of Liberia from 2006 to 2018 and was succeeded by George Manneh Oppong Weah, a former professional footballer and current incumbent of the office. The video (below) shows pictures and images of the Liberian civil war.
---
Liberia Civil War: Volunteer in Liberia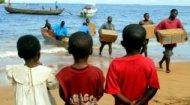 Check out all the latest fee paying and free African volunteer work placements and charity work job opportunities abroad with local projects and volunteering organisations in Liberia.
---
Liberia Civil War: Liberia History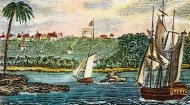 A brief history of Liberia from ancient times to the history of the slave trade to the formation of modern day Liberia and its civil war.
---
Liberia Civil War: Liberia Child Soldiers



Facts, figures, pictures and a video documentary about the use of child soldiers in the Liberian civil war.
---
---
Liberia Civil War: Sponsor Children in Liberia



Details of how to sponsor children in Liberia with Liberian child sponsor programs.
---
Liberia Civil War: Liberia Country Profile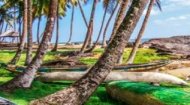 In another of our African country profiles, find out all about Liberia in a series of information articles, latest daily news, videos, and images together with volunteering and child sponsorship opportunities.
---
---