Cameroon Airport

The main airport in Cameroon is normally called Yaounde Airport, however its full title is Yaounde Nsimalen International Airport; not to be mistaken with Yaounde Ville Airport which serves as both a public and military airport (although increasingly military only), being a base for the Cameroon Air Force ~ Armee de l'Air du Cameroun). The airport which is situated 12 miles from Yaounde, the Capital of Cameroon, and serves Afrijet, Air Cote d'Ivoire, Air France, ASKY Airlines, Camair-Co, Ethiopian Airlines, Kenya Airways, Royal Air Maroc and Turkish Airlines.

Operated by Aeroports du Cameroun, exact passengers number for the airport are not known but believed to be around 200,000 passengers a year with most of the traffic coming from surrounding countries including Kenya, the Central African Republic and Benin. Other airports in Cameroon include Douala International Airport, which is by far the busiest with over 500,000 passengers a year, handling traffic from Europe as well as Nigeria, Burkina Faso, Ethiopia and Gabon and Garoua International Airport in the northern part of Cameroon which is much smaller and although termed 'international' mainly handles domestic flights.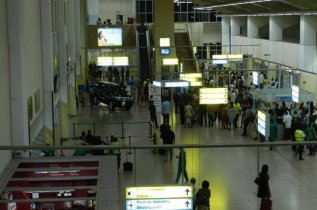 Yaounde Nsimalen International Airport is relatively well equipped with a chemist, tobacconist, newsagent, Post Office and Bureau de Change and well as bars, cafes and restaurants. It also has a VIP lounge and unlike many other African airports, is open 24 hours a day. In the video (below) make a virtual landing at Cameroon's Yaounde Nsimalen International Airport and take in Cameroon from the air and you approach the runway. After you've watched the video (below), why not check out and explore Yaounde itself in another of our other Cameroon profile pages?
---
Cameroon Airport: Volunteer in Cameroon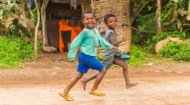 Check out all the latest fee paying and free African volunteer work placements and charity work job opportunities abroad with local projects and volunteering organisations in Cameroon.
---
Cameroon Airport: Yaounde Profile



A video and information about life in Yaounde, the capital city of the Republic of Cameroon in west-central Africa.
---
---
Cameroon Airport: Child Sponsor Cameroon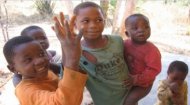 Details of how to sponsor children in Cameroon with Cameroon child sponsor organisations, charities, programs and projects.
---
Cameroon Airport: Cameroon Country Profile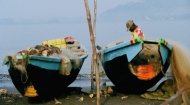 In another of our African country profiles, find out all about Cameroon in a series of information articles, latest daily news, videos, and images together with volunteering and child sponsorship opportunities.
---
---