African Astrology

African astrology differs from western astrology in that it is based on ancestral symbols of African culture; The Baobab Tree, The Wealth of Amber and Silver, The Family, Small Services to the Neighbourhood, The Market, The Ancestor, The Judge, The Kola Nut, The Traveller, The Distance, The Child of the World and The Harvest in the Granary. Just as it is believed that man started his life in Africa, so it is believed that African astrology is one of the oldest forms of astrology known to man based on ancient African traditions of studying the stars and planets around us. African astrology differs somewhat from western astrology as is is based more on the strengths and weaknesses you have urging you to understand your life in a different light and thereby providing a path to improving it.

Our African astrology reading software will define your corresponding element, lucky day, successful months, body parts and most importantly it will reveal your characteristic traits and personality. DOWNLOAD it here to use offline or use the tool above for an immediate free African astrology reading.

---
The Baobab Tree (4th Jan ~ 3rd Feb)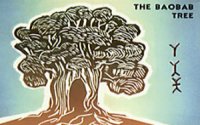 Those born under the Baobab Tree sign have an honest, liberal and thoughtful character reflected in the image of this revered tree, known as the 'tree of life' not least because it can store hundreds of litres of water which can be tapped during dry periods. Growing to sixty feet, the Baobab tree towers over the African savannahs and likewise you are industrious and not too easily influenced however prefer not to assume positions of responsibility being held back by self-doubt.
---
---
The Wealth of Amber and Silver (4th Feb ~ 5th March)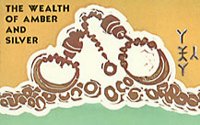 Those born under this sign have a quick wit and an active mind however also have a nervous disposition and often become jealous of those who they see as having a better life than themselves. You can be impulsive however maintain an inner strength that prevents you from temptation that you sense will not be beneficial. You respect and admire originality and innovation and often need to remain in touch with your innerself lest life becomes empty and meaningless.
---
---
The Family (6th March ~ 4th April)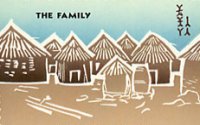 Those born under this sign have a 'family' centred outlook on life with little inclination to be self-centred or selfish and often find themselves in the role of advice giver and guide to others as well as peacemaker and arbiter. You shun schemes and Machiavellian plans preferring shared understanding and a community spirit and effort towards problem resolution. Those born under this sign achieve much in life with many accomplishing a single major feat during their lifetime.
---
---
Small Services to the Neighbourhood (5th April ~ 4th May)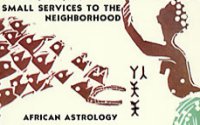 Those born under this African astrology sign tend to have a warm and outgoing disposition and make friends easily and are good communicators. They believe in community and can be relied upon by others at times of crisis to come through, however tend to procrastinate until such action is inevitable and when taking that action look to others for leadership and resolve. Nevertheless those born under this sign are well regarded.
---