About Africa

Find out all about Africa with our 'about Africa' profile pages, everything you need to know to enhance your volunteer work experience from information and videos about the great lakes of the Rift valley, to the major deserts, the Congo Rainforest, the Maghreb and, of course, and extensive history of Africa together with photographs and maps of the African continent. We also provide links to one of our sister sites where you can see live images from Africa's National parks and check out the wildlife.

On this page we provide some data and information about Africa. The graph (above) shows the average temperature across Africa and this can quickly be compared with that of neighbouring Europe. It is not hard tio see how such high temperatures present challenges to every day life in Africa. In fact it can also be a barrier to volunteering as the heat quite literally saps your energy so, instead of palnning long voluntary shifts, consider short 1-2 hour episodes morning and afternoon until you are acclimatised.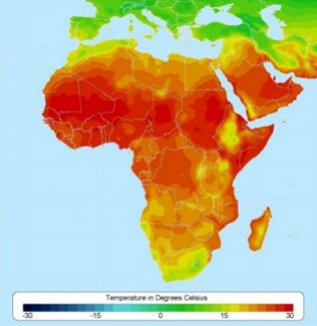 Below is a world map of human development, and, as can be easily seen, the majority of Africa, apart from a few countries in the south and north, all represent low human development when ranked in terms of life expectancy, literacy, access to knowledge and the living standards of a country. (2017 data published in 2018.)

| | | | | |
| --- | --- | --- | --- | --- |
| Very High | High | Medium | Low | No Data |
| | | | | |

Why not kick off your tour of our 'about Africa' pages by checking out the video below, introducing some of the most prominent features in and about Africa then explore some of the pages below to find out more about Africa.
---
---
---