African Games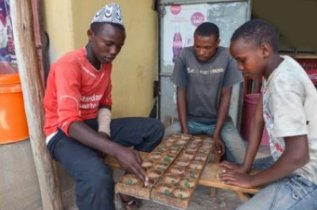 In most of the western world when you say the word 'games' you either think of outdoor sports or getting curled up on the sofa playing your favourite video games on the computer or online. Some African games are played in the same way with football being the continent's favourite game with the skill and determination of footballers from there now being snapped up by league clubs across the world including the UK's Premier League. And the reason for its popularity? Simple, its free and easy to play and even for the poorest kids they can bundle together plastic bags into a ball and kick it around.

But in rural Africa outside the major towns and cities there are no computer or internet games. In fact there's no electricity even if such games were affordable. Instead kids and children play games like Mancala and Ayo where all is needed are some pebbles and holes in the ground as shown in the picture above. In fact stones and pebbles feature highly in African games for kids and most are very simple such as Kudoda, a popular children's game in Zimbabwe where a pebble is thrown in the air and children take it in turns to pick up as many other pebbles as possible from a bowl before the thrown pebble is caught. When all the pebbles have been collected the winner is the child who has the most. Other popular games include Mbube Mbube from South Africa and Ampe from Ghana.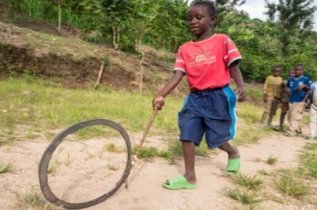 We used to have a selection of traditional African games for kids here on this site however recently launched them at a new dedicated African games. There you can play many traditional African board and cultural games online together with a selection of the best African animals games. There's also a section of African games for younger children introducing them to Africa, its people, countries and culture. The site also includes videos and pictures of children playing games in their streets and communities together with further background information. You can play some traditional African games below or visit our sister site to play a wider African games collection here.
---

Senet is believed to be one of the world's oldest board games originating in Egypt. Play this version online.
---

Senet is believed to be one of the world's oldest board games originating in Egypt. Play this version online.
---

It is believed that Morabaraba was originally used to teach herd boys appreciation for tactical thinking.
---
---

Mancala is played across Africa and some consider it to be one of the world's oldest games.
---

Ayo is a traditional game played by children across Afrioca and in many ways is like Mancala.
---
African Kids Dancing



Not African games as such, but a compilation of happy African kids dancing on video, some traditional African dancing, others just children having a good time as they move to the music sharing their talent, one of their favourite games and pastimes!
---
---