Volunteer Gambia

Gambia, with its population of just 2.348 million (2019), is ranked in 172nd place out of 189 countries and territories in 2019 in terms of life expectancy, literacy, access to knowledge and the living standards of a country. Most of the Gambia's population live in poverty and there are few prospects for the future as oil drilling to boost the economy has proved fruitless and only one sixth of the country's landmass is suitable for growing food. Many volunteer work projects in Gambia focus on education. Unlike in many other African countries, secondary school education is free however primary education is not and most secondary schools will not accept children who have not had a primary education ~ the cost of which is beyond the reach of most families who live on or below the poverty line.

As such only 39% of children attend secondary school and this is reflected in the country's literacy rate of just 50% (dropping to 40% for females.) Other volunteer projects in Gambia focus on installing wells and water pumps as well as providing mosquito nets and vaccinating children from infectious diseases such as malaria. There are also volunteer work opportunities in the many orphanages that are run in the country to cater for the 72,000 children who are without parents out of a child population of some 811,000.

Please note that many volunteer opportunities in Gambia have been put on hold because of travel restrictions related to the COVID-19 pandemic. Hopefully they will be back up and running soon. In the meantime, if you run or know of a volunteer work project in Gambia let us know by contacting here. We look forward to hearing from you!
---
Volunteer Work Gambia: The Lighthouse Project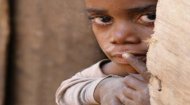 In a shameless bit of self-promotion, read this novel by the African Volunteer Network team about volunteering in Uganda. "Well worth the read especially for those working with non-profits abroad. In fact, it should be required reading."
---
Volunteer Work Gambia: Gunjur Project



The Gunjur Project sponsors children's education and oversees many community projects.
---
Volunteer Work Gambia: First Aid 4 Gambia



Deliver crucial life-saving training and equipment to those who need it the most in Gambia.
---
---
Volunteer Work Gambia: GambiaStartUp



A range of volunteer projects from helping in the classroom to school building and gardening work.
---
Volunteer Work Gambia: Project Gambia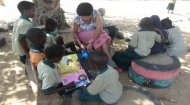 Volunteer work teaching in schools, building, renovation, environmental or health projects.
---
Volunteer Work Gambia: The Gambia Volunteers



Established to enable people in gambia to help themselves by providing practical opportunities to create a better future.
---
---
Volunteer Work Gambia: Gambia Horse and Donkey Trust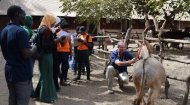 Seeking short term veterinary/equine professional volunteers to volunteer their time to come and work with them in Gambia.
---
Volunteer Work Gambia: Teach Gambia



The Teach gambia model trains and equips their volunteers to really teach within the Gambian education system.
---
---
Volunteer Work Gambia: Child Sponsor Gambia



Another way to volunteer in Gambia is to do so by sponsoring a child there. Details of how to sponsor a child in the country with Gambian child sponsor organisations, charities, programs and projects.
---
Volunteer Work Gambia: Gambia Country Profile



In another of our African country profiles, find out all about Gambia in a series of information articles, latest daily news, videos, and images together with volunteering and child sponsorship opportunities.
---
---