Volunteer Guinea-Bissau

There was a time when Guinea-Bissau, with its population of 1.921 million (2019), was championed as a showcase of how a fledgling African nation could and indeed should be run. However years of political and social unrest have left it impoverished, massively in debt and reliant on foreign aid to prevent its total collapse as a nation state. Today Guinea Bissau is ranked in 175th place out of 189 countries and territories in 2019 in terms of life expectancy, literacy, access to knowledge and the living standards of a country. One out of every five children living in Guinea Bissau will die before their fifth birthday and overall life expectancy is around 58.00 years (2018). Guinea Bissau also has one of the highest child mortality rates for the under fives in the world. The majority of the population is illiterate, with just over 30.77% of females being able to read and write, over one hundred thousand children have been orphaned or abandoned (about one in ten of the country's entire population) and these and other children are at risk of being trafficked to Senegal in exchange for cash so their poverty stricken families can survive. Despite all of this there are few volunteer work opportunities in Guinea Bissau and what there are tend to focus on health care, and disease prevention together with education and working with orphans.

Please note that the few volunteer opportunities in Guinea-Bissau have been put on hold because of travel restrictions related to the COVId-19 pandemic. Hopefuly they will be back up and running soon. In the meantime, if you run or know of a volunteer work project in Guinea-Bissau, please let us know by contacting here. We look forward to hearing from you!
---
The Lighthouse Project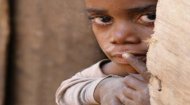 In a shameless bit of self-promotion, read this novel by the African Volunteer Network team about volunteering in Uganda. "Well worth the read especially for those working with non-profits abroad. In fact, it should be required reading."
---
West African Vocational Schools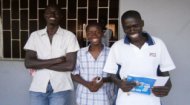 West African Vocational Schools offers a range of volunteer work experiences in Guinea Bissau.
---
Red Cross



Providing humanitarian aid and relief as required in Guinea-Bissau.
---
Medecins Sans Frontieres



Working in Guinea-Bissau since 1998, MSF continues to address ongoing health concerns in the country.
---
Action Guinea-Bissau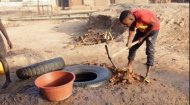 A UK charity working to resolve issues surrounding gender-equality, unemployment and the environment in Guinea-Bissau.
---
Reto Juvenil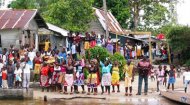 You can help orphaned and abandoned children in Guinea-Bissau in the following areas: Youth empowerment, child care support, children shelter support and infrastructure improvements.
---
ADPP



ADPP Guinea-Bissau is a national organization operating in the country since 1981 with interventions focused on rural areas, the most vulnerable and those most affected.
---
Guinea Bissau Profile



Find out more about Guinea Bissau, its people and what daily life is like there in our Guinea Bissau profile pages.
---