Cameroon Profile

Cameroon, with its population of 25.88 million (2019), is located in western central Africa having 249 miles of coast on the Gulf of Guinea/Atlantic Ocean coastline known as the Bight of Biatra. Cameroon is further bordered by Nigeria to its west, Chad to its north-east, the Central African Republic to its east and Equatorial Guinea, Gabon and the Republic of the Congo to its south. Slightly larger than California, Cameroon is sometimes referred to as 'Africa in Miniature' with golden beaches, tropical rainforests, lakes, deserts, savannahs as well as volcanic mountain ranges and an abundance of wildlife including lions and elephants. Cameroon gained its name from what Portuguese settlers had named the River of Shrimp, Rio dos Camaroes, after they reached the coast in 1472. In 1884 the land became a German colony, however after Germany's defeat in World War 1 the then named Kamerun became a League of Nations Mandate territory being split into British Cameroon and French Cameroon in 1919. French Cameroon gained independence from France on 1st January 1960 and, the following year, on 1st October 1961, British Cameroon united with it to become the Federal Republic of Cameroon under the stewardship of President Ahmadou Ahidjo, the leader of French Cameroon who installed one party politics.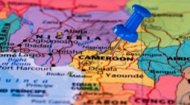 Today power rests in the grip of President Paul Biya, formerly the Prime Minister of Cameroon from 1975 to 1982 under Ahmadou Ahidjo, who was first elected into presidential office on 6th November 1982 and who is now the second longest ruling president in Africa, the longest-ruling non-royal leader in the world and the oldest head-of-state in Africa. Cameroon is generally seen as a stable country with this stability providing a platform for the development of its infrastructure and inward investment, however there is a strong movement in the former British Cameroon to break away and form the independent Republic of Ambazonia. Indeed this was proclaimed in 1999 but has gained no recognition either within and outside of Cameroon. The terrorist groups Boko Haram and the Islamic State West Africa (ISWA) are known to be active in the far north region of Cameroon and attacks have been carried out in the capital Yaounde in the summer of 2020 and further such attacks are threatened with Boko Haram denouncing Cameroon's involvement in the regional fight to counter them and their aims.

Cameroon is in 153rd place out of 189 countries and territories in 2019 when ranked in terms of life expectancy, literacy, access to knowledge and the living standards of a country. Life expectancy for a child in Cameroon is 58.92 years (2018), not helped by the prevalence of HIV/AIDS where in 2020 a staggering 350,000 have been orphaned by AIDS. Many of these orphaned children, along with others who escape poverty or family breakdown, end up on the streets living through vending, begging or stealing. For more about Cameroon, explore our Cameroon profile pages below.