African Animals Facts

Those who have visited Africa will be aware of the rich diversity of life there with over 1100 mammal species, 2600 species of birds, over 3000 different species of fish and 100,000 different types of insect, with four out of the five fastest land animals in the world being found in Africa, namely the cheetah, wildebeest, lion, and gazelle. In addition, Africa is home to many hundreds of different reptiles and long before man, the continent was roamed by the world's oldest dinosaurs including Nyasasaurus Parringtoni ~ estimated to be 240 million years old. For more about Africa's dinosaurs click here.

On this African animals information page you can find out all about the animals of Africa complete with up-to-date news and live webcams. These LIVE webcams are one of the most popular features of this section of the African Volunteer Network whereby you can sit back and watch African animals in their natural habitats from watering holes to rivers and the savannahs. We also partner with animal welfare organisations to bring you 'Adopt an Animal' gift packs so you can contribute towards the well-being and habitats of these African animals as well as daily updated news about the animals species from across the continent and information about each of the animals found in Africa!

We have included this section in our Volunteer Network because so many volunteers take time out to explore the rich tapestry of African wildlife while there with many seeing it as a a reason to go and volunteer in the first place. Hardly surprising given the number of Naional Parks across the continent and, if course, there are many volunteer projects that work within the animal welfare ecosphere itself.
---
African Animals: List of African Animals



A comprehensive list together with photos of all the animals of Africa together with information.
---
African Animals: Big Five Animals



Find out all about the Big Five animals of Africa including how they got that name!
---
---
African Animals: Africa Animal News



Daily updated news from across Africa about the animals of Africa including endangered species and work being undertaken to protect them.
---
African Resources: Adopt an Animal



Help keep animals in Africa safe by adopting an African animal and promoting their welfare and futures as they become increasingly endangered.
---
African Animals: African Animals Quiz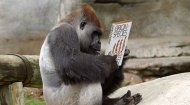 How much do you know about the animals of Africa? Take our online quiz and find out!
---
---
African Animals: African Animal Webcams



Before you volunteer in Africa check out these live webcams from around the diverse continent of Africa.
---
African Animals: Africa Safaris



Ever thought of going on a safari in Africa to see the Big Five and other animals? Find out more!
---
---
African Animals: Free African Animal Animations



A collection of free African themed animal animations and website gifs to use in your own projects.
---
Africa Resources: Free Africa Photographs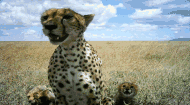 Here are some free African wildlife photographs for you to download and use in your own projects.
---
---
Africa Resources: African Animal Books



A selection of some of the best African animal books to buy online through our Amazon partnership.
---
Africa Resources: African Animal Books for Kids



A selection of our top recommended African animal wildlife books for kids, children and young people.
---
---